SEO Product Ownership Bundle
How to work with developers and turn recommendations into actionable tickets.
Master the fundamentals of working with developers to get SEO projects executed. A series of self-paced courses that will help senior SEO professionals turn any idea on the roadmap into a release plan.

"Thank YOU so much, Adam! I can't begin to thank you enough for your help. I feel 100% more confident going into meetings with Product and Engineering in a more positive way."

Anna Crow, SEO and Content Specialist, Alludo

Enroll in Three Courses Today!

Are you interested in truly mastering working with product and development teams?
Then buy the SEO Product Ownership Bundle.
When you buy the bundle you'll get access the following courses:
Usually three courses cost about $790.
BUT you can buy all three at a discount rate with the SEO Product Ownership Bundle that only cost $730.
ALSO with the pre-release discount you can get this bundle for $660 (Ex VAT). That's a $130 saving!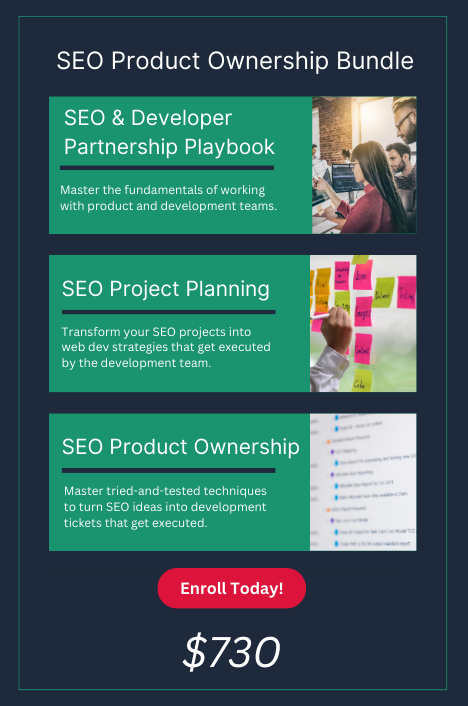 $730
Course Launching 4th December 2023 - 10% off until it's launched.

Use the SEOEXECUTION 10% discount code at the checkout.